Welcome to this simple guide about domiciliary care. This is a very important part of healthcare. It's all about giving help and support to people while they're at home.
In this post, we'll break down what domiciliary care means. We'll also talk about why it is important. Plus, we will discuss how it can improve life for people who need care services.
We'll also explore its benefits to family members and the different aspects of a domiciliary care program. So, let's begin!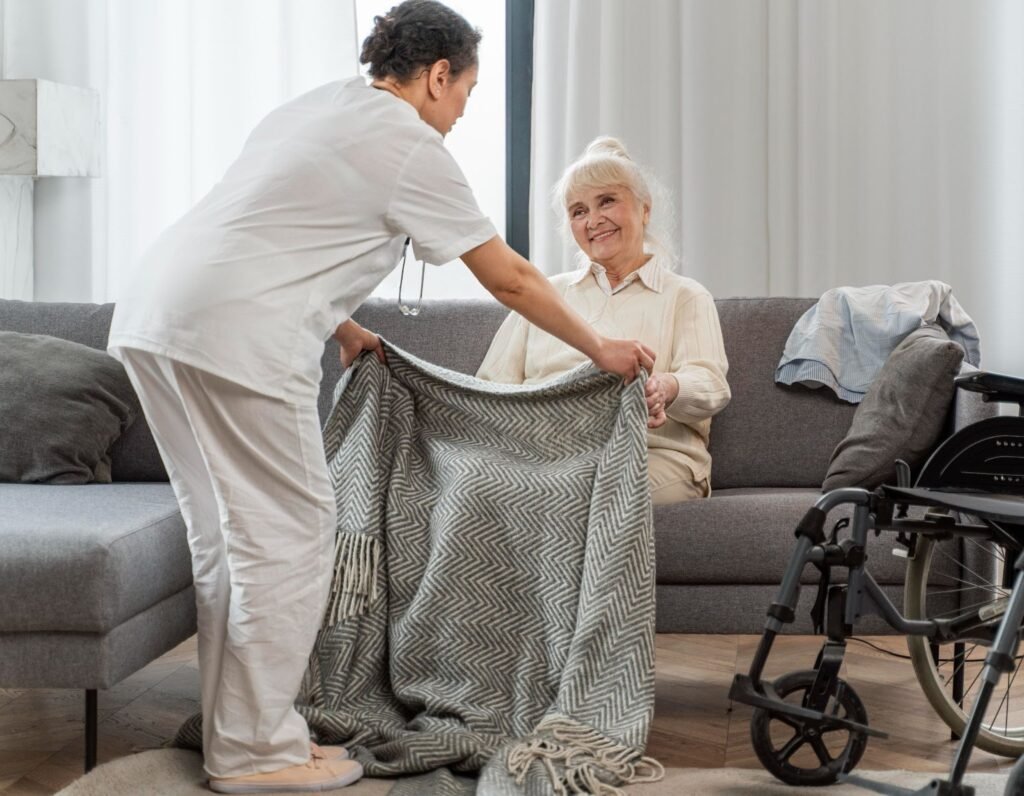 What is Domiciliary Care?
We also call domiciliary care as home care or home-based care. Domiciliary care is a kind of health service. It's for people who wish to live in their own homes, but need help. This assistance can be for daily tasks or medical needs.
It especially benefits seniors, disabled individuals, and those recovering from injuries or illnesses.
Domiciliary care is when professionals like caregivers, nurses, or therapists come to your home. They give you personal care and help you stay independent. This way, you can stay in a familiar setting – your own home.
The Importance of Domiciliary Care
Domiciliary care is very important. It helps people who have trouble moving around or need regular medical check-ups. We aim these types of care at promoting their well-being.
Getting care at home can help individuals feel more comfortable. It also lets them stay in a familiar space for their emotional and mental well-being.
Domiciliary care helps people keep their social ties. It keeps them involved in their local community. This can help cut back on feelings of being alone or isolated.
The Impact on Quality of Life
The quality of life of individuals receiving domiciliary care significantly improves due to the personalized nature of the services provided. Caregivers work closely with clients to understand their unique needs and preferences, tailoring care plans accordingly.
This way of doing things ensures people can still do what they love. They can keep up with their hobbies and interests. This gives them a reason to enjoy each day.
Domiciliary care can lead to cost savings compared to nursing home care. According to AARP, 90% of seniors prefer to age in their homes rather than move to institutional care facilities.
Benefits for Family Members
Domiciliary home care benefits the individuals receiving care and offers significant advantages to their family members. Family members often feel at ease when they can care for their loved ones at home. It's comforting to know they're in a familiar place.
These services can make things simpler for family caregivers. It helps them manage their tasks better and avoid getting too stressed or tired.
How Domiciliary Care Programs Work
Domiciliary care programs typically start with assessing the individual's needs and preferences. We then create a care plan. This plan lists the required services. These might include help with bathing, grooming, managing medicines, preparing food and keeping the house clean.
The number of caretaker visits can change based on the client's needs. It can be a few hours each week or even round-the-clock support, 24/7.
The Role of Caregivers
Caregivers play a crucial role in home-based care, also known as domiciliary care. They're the main person who connects with and helps the one getting the care. They get to know their clients well and offer more than just caregiving tasks. They also give emotional help, making sure their clients feel good while doing their jobs.
Caregivers make sure to talk often with the family. They keep them up-to-date on how their loved one is doing. They also tell the family about any changes in their care plan.
Nursing and Medical Services
In addition to non-medical care, domiciliary care includes nursing and medical services. Qualified nurses visit clients at home to administer medications, dress wounds, monitor vital signs, and provide specialized medical care as needed. This integrated approach ensures that individuals with complex medical conditions can receive comprehensive care without leaving their homes.
The Impact on Healthcare Facilities
Domiciliary care positively impacts healthcare facilities by reducing the strain on hospitals and nursing homes. By providing care at home, domiciliary care helps prevent unnecessary hospital readmissions and frees up hospital beds for more critical cases. This, in turn, leads to cost savings for both healthcare facilities and patients.
Enhancing Independence and Autonomy
One of the key objectives of domiciliary care is to support individuals in maintaining their independence and autonomy. Caregivers motivate clients to join in with daily tasks. They also help them make decisions as much as they can. This gives the patients a feeling of control and respect.
Personalized Care and Flexibility
Domiciliary care offers a level of personalization and flexibility that is often not possible in institutional care settings. If a person's needs change, the care plans can also change. Caregivers can switch up their methods to fit each person's likes and daily routines.
Quality Assurance in Domiciliary Care
To ensure the highest level of care, domiciliary care providers often have quality assurance programs in place.
These programs might have several parts. One part could be regular check-ups of the caregivers. Another part could involve getting opinions from clients and their families. Lastly, they need to stick to accepted rules and good methods.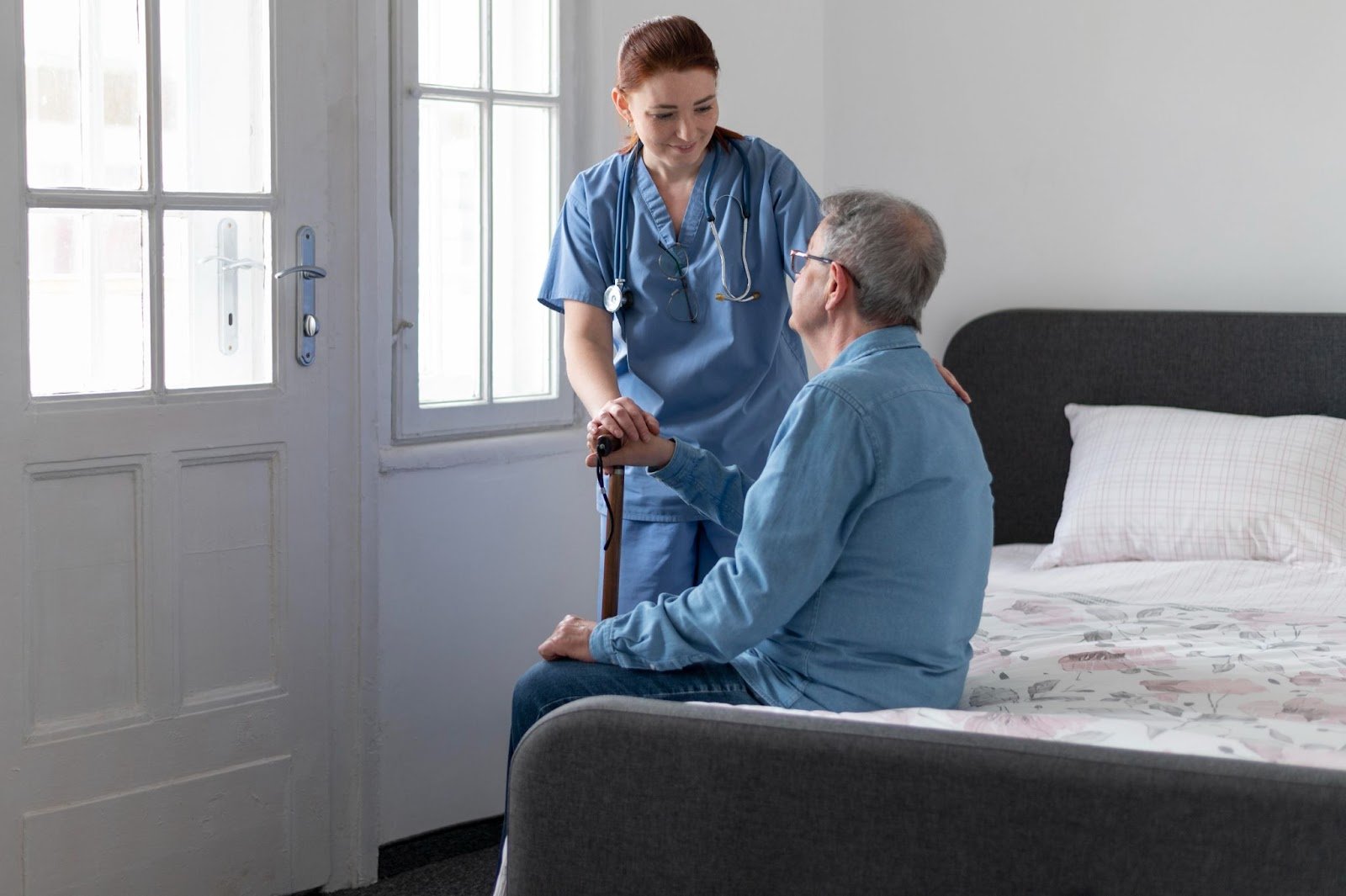 The Future of Domiciliary Care
The future of domiciliary care looks promising, with an increasing focus on technological advancements to enhance care delivery. Technology will have a crucial role in bettering the care experience. This is beneficial for clients and caregivers alike. It can be through things like remote monitoring devices or telehealth meetings.
Conclusion
To sum up, domiciliary care is really important in healthcare. It lets people get custom help and medical care at home.
Domiciliary home care greatly improves life quality for people who need these services. It's also really beneficial for their families. That's what makes it a key part of today's healthcare.
FAQs
What is the difference between domiciliary care and residential care? 
Domiciliary care is when you get care at your home. On the other hand, residential care means living in a place that cares for you, like a nursing home. Domiciliary care lets people stay in their own comfortable space. On the other hand, residential care gives 24-hour help in a community setting.
Does insurance cover domiciliary care? 
Certain insurance plans, including long-term care insurance or specific government-funded programs like Medicaid may cover domiciliary care. It is essential to check with your insurance provider to understand the coverage options available.
Can domiciliary care be provided for temporary situations, such as post-surgery recovery? 
Yes, you can set up domiciliary care for short times. This can happen after surgery or during sickness. We can personalize care plans. They can help people briefly until they can take care of themselves again.
How do I find a reputable domiciliary care provider? 
To find a reputable domiciliary care provider, consider seeking recommendations from healthcare professionals, friends, or family members. Additionally, research online reviews and testimonials to gauge the experiences of other clients.
Can I choose my caregiver in a domiciliary care program? 
In many cases, domiciliary care providers offer the option to choose a preferred caregiver based on compatibility and experience. Open communication with the provider can help ensure a suitable match for the client's needs.
Remember, domiciliary care is an invaluable service that empowers individuals to age or recover gracefully while preserving their dignity and independence. Are you or a loved one thinking about domiciliary care? If so, it's important to look at all your choices. Then, choose the one that best suits your needs and likes.